Learn the Process of

Creating

Original Art
The most extensive course created for learning how to create, design and paint your own original art
Learn the Process of Creating Original Art is the only creative course of its kind that not only shows you exactly how to paint 3 beautiful paintings, but also teaches Christie's unique processes of creating original art just like she does! You will learn her 3 exclusive techniques for taking ideas and inspiration to a complete finished piece of art so you will never run out of ideas for your own art ever again!
Buy Now!
Before I tell you all about this game-changing program, Let's talk about who this is really for…
You've always dreamed of being an artist, someone that could sit down with a blank canvas and create a beautiful painting. You are ready to learn the skills and techniques to not only paint better, but also learn how to create your own work without copying others for ideas. You are eager to soak up all the knowledge you can so you can create whatever your heart desires!
Whether You're...
A complete newbie to painting who's anxious to learn painting basics & techniques with acrylics but may have little or no experience with painting.

A budding artist that is ready to take painting to the next level. A person that has been painting for a while but would still love to learn how to create original art.

A Picasso who loves to paint and create all the time but is always looking for ways to stretch and grow as an artist.
You're in the right place and I am going to show you exactly how
Learn the Process of Creating Original Art
will give you the techniques, inspiration and guidance on your path to creating your own original art pieces.
By the end of this course,
you will have learned:
How to be inspired by other artists from places like Pinterest and learn how to take those ideas and

make your own original artwork without copying.


How to

c

reate your own still life

for endless possibilities of painting inspiration


How to

photograph your still life

and transfer to your painting surface


How to sketch a design by learning to create thumbnails


How to

create a template in Procreate or by hand

to use with your paintings


How to

build a pallet board

for painting


How to

mix your own colors

of paint with Christie's color mixing lesson


How to do a simple

hand lettering

on your art


How to create with

watercolors, mixed media and acrylics


How to

create your own composition

with the exclusive techniques in these videos


How to paint 3 beautiful fall paintings

that you can be proud of!


BONUS

Basics in Acrylics 4

-part video series

- to make sure you have success, Christie is including step-by-step lessons on all the necessary acrylic painting basics!
"Thank you, Christie, for letting an old dog learn many of your wonderful and amazing tricks and for making it look so fun!!"
Not being confident in my drawing ability, it was intriguing to me to see the still life process from beginning to end ... I am in awe of your knowledge and willingness to share it with everyone.
LINDA C.
Learn the Process of Creating Original Art!
"Thanks, Christie, for showing how to put together a composition. Being able to get inspired from different paintings and pictures and then come up with my own painting is a goal of mine. And being able to paint over something I don't like is the best lesson to learn!"

DARCEE W.
"Thanks, Christie, for being intentional about teaching the steps in your process. I feel like I get "stuck in the mud" and "overthink" an original composition. It was fun to see the elements you gathered for your inspiration. The color mixing was so helpful, as well. Loved making the wreath!"

RITA L.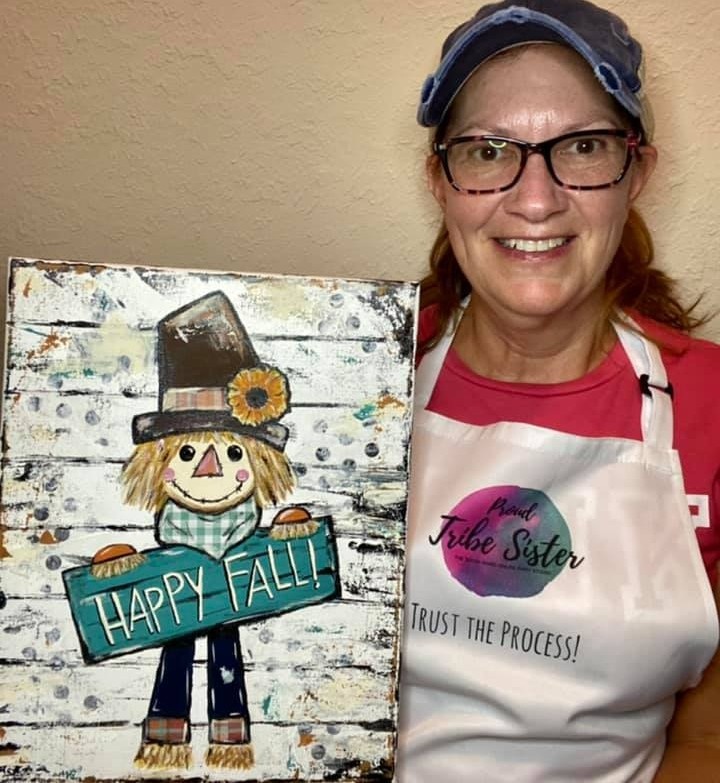 "I am so proud of myself! Following Christie's process was so much fun and I enjoyed learning so many things along the way. My favorite was seeing how the lettering was done and it took away my fear of having to be perfect. This little guy brings me so much joy and I can't wait to do the next painting with her!"

LESLIE T.
"My biggest take away from these tutorials was learning how to combine separate elements from references to come up with a unique design. The creative possibilities are endless with this method!"

STEPHANIE C.
In this course, you will learn...
How to Create Art from a Still Life
Paint a beautiful array of your favorite things after Christie teaches you how to design a balanced still life.
The Art of Not Copying
Be inspired by other artists from places like Pinterest and learn how to take those ideas and make your own original artwork without copying.
How to turn things you see every day into art!
Learn how to take inspiration in the real world and turn it into art
These tutorials are taken from live videos that until now were exclusively available to Christie's Inner Tribe membership only. They have not been released or sold to the public.
Paint on your schedule!
Log in instantly to a personal library where you will Learn the Process at your own pace with 24/7 Lifetime Access!
Paint Color and Supply List
Supply & Paint Color List that accompanies the lessons. Remember you will learn how to paint your own compositions and can always use any colors you like!
Step-by-Step Video Tutorials
Christie breaks down the Fall Pumpkin Still Life, Fall Wreath, and Happy Little Scarecrow, making it easy for anyone to follow along, Learn the Process of creating original art compositions, and paint!
Rights to teach these paintings at

local

paint parties.
(no teaching online or virtual kits allowed)
Learn the Process of Creating Original Art Course
(A $250+ Value)


What's Included:
How to create a balanced still life in your home to use as inspiration for a painting.

Turn any of your images into a template using the app Procreate or no special technology at all!

Use the ideas you find in print and online to Inspire New Ideas and gain confidence in creating your own ideas without copying.

How to build a pallet board for painting

Color Mixing lessons so you can creatine the colors you imagine for your art work. Always have the perfect colors even if you can't find it in stores.

Hand Lettering on Canvas

Christie's Favorite Color Reference Guide

And of course, watercolor, mixed media, and acrylic painting techniques!

Course website with 24/7 Access

Direct Access to Christie via text to share your homework

The Social Easel support team to answer any questions via email during your course

BONUS Basics in Acrylics 4-part video series - to make sure you have success, Christie is including step-by-step lessons on all the necessary acrylic painting basics!
Christie is going to walk you through her techniques of how she comes up with her ideas for original art pieces
t
hat anyone can use to find inspiration and create.
You will be given access to one module per week (beginning with The Art of Not Copying, your Behind the Scenes Resources and Christie's Basics of Acrylic Painting mini course immediately after purchase) so that you have plenty of time to dive into each lesson before moving on to the next.
We do this to protect you from the overwhelm that can stall any artist with painter's block.
Go beyond simply watching a tutorial and painting along.
Follow along while Christie makes choices in real-time deciding what to do in each painting. Learn through the mistakes, trial and error, and the fixes.
Learn the Process of Creating Original Art!
Frequently Asked Questions
Is this class a monthly subscription?
What is included for the $150?
I have never painted before, can I take this course?
What is the Return Policy?
Where can I find Christie teaching these lessons?
What if I need help along the way?
How do I access the course?
How do I show Christie my work?
Still thinking about it?
The Learn the Process of Creating Original Art course is developed with all artists in mind, especially if you are motivated by

any

of the following:
You want to learn how to paint and create your own artwork without struggle...like..really badly.
You want to feel the confidence of creating your own art and what that could do for your life and dream of the possibilities that it could bring you.
Sometimes, it's even the small things. like time to yourself to get lost in just creating or confidence gained by learning new skills that you never even knew you had!
Maybe it's something more...
You want to not only create art for yourself but you would love to give art to others and spread a little joy in this world! What if you were even able to start selling your work and making some extra money each month!? Girl, DREAM! It's all possible!
Dream big and give yourself permission to pursue something new...JUST FOR YOU!
Close your eyes and think of all the things that could change with the knowledge learned in this course! What do you see?
Nothing is too small or too big. I truly believe God has given each one of us a creative side and most just need help pulling it out. He has some big plans for us.
His ways are higher than our ways and it's just our job to Trust the Process and keep growing and learning in anticipation of what he has in store for us next!
Don't let FEAR stop you from experiencing something that can bring so much joy!
The moment we take action, fear stops. Don't wait. Do it scared!
Take the leap and jump in!
I'm Christie Hawkins, owner of The Social Easel and also the founder of Christie's Inner Tribe! And I LOVE to paint and to teach others!!
I would love to say that every idea I have just comes to me easily and that I don't occasionally struggle with artist block... but that wouldn't be honest! It's just simply not true for any artist.
Students will get to see me struggle with so many choices, a few mishaps, and making decisions but ultimately, I will teach how to handle them when you encounter the same things when creating your own artwork.
That's exactly why I feel like this course is so beneficial!
Art is a process. This course is designed to teach artists how to trust that process and learn my specific methods for creating original art!
I really hope that this behind-the-scenes look is going to give artists, no matter their skill level, guidance, and confidence so that anyone can tackle it on their own!
XOXO
Christie
Learn the Process of Creating Original Art!